What is Positive Grid BIAS FX 2 Software?
BIAS FX 2 guitar software provides this and more as an intuitive, fully customizable virtual electric guitar, bass or acoustic guitar rig for Mac and PC.

Works as a standalone guitar effects processing app, allowing you to inject new tones and creativity into your playing, practicing, and jamming — no need for any other guitar software or DAW.
  
How good is BIAS FX 2?
The plugin in question here is Bias FX 2. It's a full amp suite with a completely nuts collection of gear. You get pre, post, amps, pedals, cabs and plenty of features to keep anyone busy for a while.
Positive Grid products always look beyond great and they also seem to always have a useful, easy GUI that makes traversing the mountains of gear as easy as it can be.
Bias FX 2 has a very nice workflow for songwriting and just jamming out ideas or quick demos without needing to put work into your tones.
The clean and low gain amps are pretty much all pleasing, warm and crisp. These are the stars of the show in my opinion. There's been a world of improvement in this department. Improvements you can really hear from the first notes.
If you are looking for a fun program for recording on the go, quick demos, songwriting and other more recreational applications, Bias FX 2 certainly has everything anyone could ever want or need for all of the above. 
On the other side, if you are looking for a professional quality guitar plugin, the clean to low gains and other parts of Bias FX 2 are more than capable but the hi-gain capabilities are limited.
Bias FX 2 has been improved from the first edition. The cleans, low gain tones, delays, reverbs and many other things about it are definitely. 
The warmth, detail, note response and many other areas of the plugin have seen upgrades that solved some of the issues from past products.
How can I get bias FX 2 for free?

Free BIAS AMP 2 Desktop Professional for BIAS amplifier users
It's simple to register your hardware, redeem your free license and upgrade your amplifier's firmware so that it can work with
BIAS AMP 2 Desktop :

2) Download and install BIAS AMP 2 software. If you've already installed the software, go to Step #3.

3) Boot the standalone version of BIAS AMP 2, and connect your BIAS amplifier with a USB device cable. This will connect your hardware to the BIAS AMP 2 desktop software, and upgrade the firmware at the same time. The first time you sync your amplifier this way it will take some additional time to perform the firmware upgrade, but the next time you sync the process will go much faster.

4) Once fully connected, the software will ask you to sign in to your ToneCloud account. If you don't have an account yet you can easily create one by clicking "Sign Up".


5) If your BIAS amplifier is already registered to you, a full license for BIAS AMP 2 Professional will automatically be placed in your account, which means that the software will function normally even if your BIAS amplifier hardware is not connected.

6) If your BIAS amplifier is NOT registered to your account, connecting a BIAS Head, Rack or MINI amplifier will still unlock the full functionality of BIAS AMP 2 Professional, but only as long as the hardware is connected to the desktop software.

7) In order to properly register your hardware amplifier, click the "Register" button in the prompt that comes up after you first log in to your ToneCloud account and follow the steps to complete registration. 
Don't worry, if you dismissed the prompt earlier you can get back to it at any point by clicking on the "Register" button in the top right-hand corner of the Desktop software.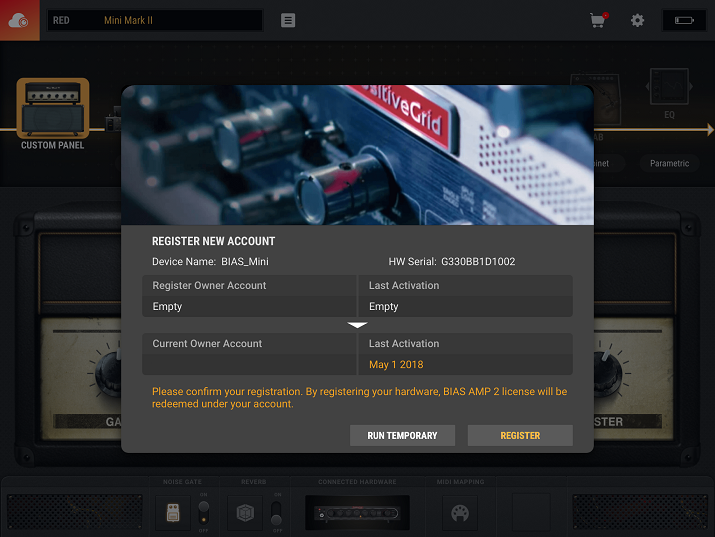 Is bias FX free?

In addition to offering the base BIAS FX Mobile app as a free download, Positive Grid has unlocked all in-app purchases and expansion packs, too. 
This means that you will get free access to every guitar amp model and every guitar stompbox available in the app. 
The expansion packs are normally priced around $9.99 per piece. The free expansion packs can be used at no cost for 90 days.
How much does bias FX cost?
BIAS FX 2 Pricing

| | | | |
| --- | --- | --- | --- |
|   | FX 2 STD | FX 2 Pro | FX 2 Elite |
| New Customers | $99 | $199 | $299 |
| For FX 1 STD User | $49 | $149 | $249 |
| For FX 1 Pro User | No Discount | $99 | $199 |
| For All Amp 2 User | $79 | $179 | $279 |

Please note: All the prices are in USD 

Is bias FX the best?
Below are the forums comments that I found over the internet really usefull information about this software for people who are interested to buy this Positive Grid products. So read on to know more about it from users.
Sounds awesome

Sounds great, pretty straight forward and easy to use! Also, available patches online that you can easily test and download is a plus. BIG THANKS to Mr. Ken Davis for assisting me!



The Bias System is My Favorite



In all, I own SEVEN complete guitar-amp-modeling suites, including my former choice for, "the best there is," Avid's Eleven plug-in suite. 

Overall, the Bias system is Grand Champ, for me.
While demoing Helix Native AND Overloud's TH3, I bought Bias Amp 2 and Bias FX.

So: for reference, (to make comparisons), I had arguably the eight most popular amp-modeling systems: Guitar Rig, Eleven, Rock-Rack, Amplitube, Revalver, Vintage Amp Room, Helix, TH3, and Bias (Amp 2 and FX).

My verdict: For all tones guitar, Bias features the most compellingly authentic amps. They are flat-out thrillingly good. 
They also happen to offer both the greatest options for fine-tuning tones, (all the way down to modeled tubes one can vary), and by far the most expansive, FREE, system for supplementing the factory library with extra tones! 

I feel like Positive Grid has really won the competition, and probably for far into the foreseeable future.
I say, no matter what you already have, GET POSITIVE GRID BIAS!!!

Excellent all-in-one plugin


Bias FX is my go to in-the-box guitar tone tool.
The first thing that I noticed with the Bias FX software was how good the presets were. 
There are presets for several artists built in, including players like Tosin Abasi.

The presets sound great and they are instantly usable. Beyond that, there is a massive amount of expandability. 
You can run two amp channels at the same time and blend them, drag and drop and reorder components and effects, and pull other users" presets from the ToneCloud.

Since I purchased this software, I"ve used it on every session I"ve had. Not just for bass and guitar, but vocal effects and synths as well.


Whenever I"ve needed support assistance Positive Grid has been very quick to respond and assist with any questions I had. There is also a good forum presence on their website.

I"ve used AmpliTube, Peavey Revalver, Scuffham, and all the rest, but in terms of quality of tone and modification capabilities, nothing matches Positive Grid for me.



Positive Grid BIAS FX Pro is Great!

I've owned many Multi-FX processors over the years...Eleven Rack, VOX, Line6, BOSS, AxeFX, etc and I have to say that BIAS FX is on par with the AXE FX2 for direct recording. 
I am going through a Focusrite Scarlett 2i2. I use a BOSS GT100 with my Marshall DSL40 via the four-cable-method and I was using that for direct recording (still a very good versatile unit), but now Im using BIAS FX for direct recording exclusively!



BIAS FX Pro - Super Plug-in

BIAS FX Pro has super nice guitar effects. Just about everything you could dream of is in this modeling software. You have 32 amps that scream just like the real amps. 10 rack processors and 52 Stomp boxes. 
I use this in Studio One V3 and I am very pleased with the results. I only have a few real stomp boxes to A/B the plug-in with but what I have the BIAS FX Pro is right there with it in sound quality. 
I love the raw sound tones BIAS FX Pro gives you. The clean, the crunch and the overdrive will put a smile on your face. I am very happy with the product. A "Thank you Sir" to Tyler Berggren who always does a great job. If you need a great Sales Engineer at Sweetwater call Tyler at 1-800-222-4700 x1258.


Great fun!


I"ve really enjoyed playing with both Bias Amp 2 and Bias FX, and the Bias Mini for guitar. Great products. I had some questions at first and was helped via email within 24 hours of asking a question at least five or six times. 
Not instantly like a chat representative, but effective and thorough anyway. Great products that sound awesome. Love the versatility.


Where can I purchase BIAS Amp online?
For the desktop version, you can purchase BIAS Amp from any of the following online stores:
Positive Grid store (https://www.positivegrid.com/store/)
SweetWater
Plugin Boutique
Thomann
RecordingSoftware.com

For the iOS version, you will need to purchase BIAS Amp from the Apple® App Store.



Will BIAS Amp run on my computer?

We recommend that your Mac/PC meets the following requirements for the best BIAS Amp experience.

OS X 10.9 or later
Audio Units, VST, RTAS, AAX Native
4GB of RAM minimal, 8GB or more recommended
700MB free disk space (at least)
An internet connection is required to activate license and access ToneCloud. Our applications do not support offline activation at this moment. BIAS Amp can run in offline mode after activation.

Windows 7 (SP1) or Windows 8
VST, RTAS, AAX Native
4GB of RAM minimal, 8GB or more recommended
1.5GHz Dual core processor minimal, 2.0GHz Dual core or more recommended
250MB free disk space for per version (32 or 64 bits)
An internet connection is required to activate license and access ToneCloud. Our applications do not support offline activation at this moment. 
How do you run bias FX?
BIAS Amp can run in offline mode after activation.
Other Postive Grid Products 
BIAS FX 2 Standard



Ultra-customizable guitar amp and guitar effects processor.

Includes
1. 30 Amplifiers
2. 43 Guitar Effects Units
3. 70 Factory Presets
4. Guitar Match - 4 Guitar Models
5. Looper/Backing Track Player
6. Greatly Improved New DSP Engine
7. Create and Download Thousands of Pedals on ToneCloud®
8. New Easy-To-Use User Interface
9. Dual Signal Path With Multiple Splitters
10. Hundreds Of Improvements Across The Board

BIAS FX 2 Professional

Unlock even more amplifiers, guitar effects and tonal possibilities.

Everything in Standard

1. 60 Amplifiers
2. 115 Guitar Effects Units
3. 130 Factory Presets
4. Guitar Match - 8 Guitar Models
5. 14 HD Rack Units
6. New MIDI/Automation functionality
7. Dedicated IR Loader
8. Brand New Custom Artist Presets



The ultimate in a guitar amplifier and guitar effects processing.


Everything in Professional

1. 100 Amplifiers
2. 122 Guitar Effects Units
3. 210 Factory Presets
4. Guitar Match - 20 Guitar Models
5. 18 HD Rack Units
6. New Fuzz Modeler
7. New Time Modeler
8. New Harmonizer Modeler
9. FREE - BIAS Pedal software (included: Distortion, Delay, and Modulation )